1. Lily is as obsessed with getting her nails done as I am. I paint her toes at least twice a week.
2. One of my favorite things about the summer is the bounty of fresh crab we have from our Bay House. I made c
rab cakes
for dinner. So easy. Be jealous.
3. Over the weekend we went to Bianca's 2nd Birthday---we're so happy we could celebrate and enjoy the brownie pops that B's Momma mad. SO GOOD!
4. The kids enjoyed seeing the planes come in at National Airport at Gravelly Point. It was super-hot, and Lily did not like how loud they were. Christian of course thought it was the coolest thing ever to see the planes so low!
5. Lily's room is no longer a nursery. The changing table has come off the dresser and the mirror and new wall decor went up. All we need to do is buy a twin mattress and our little girl will be all set. I just love how it is all coming together. The dresser and mirror is my own set from when I was a little girl. And we're continuing on with a Lilly Pulitzer theme. I need to find the perfect twin bedding---any suggestions?
6. Um, saw this at the grocery store and I had to stop myself from buying it. I wonder what Jessica and Elizabeth are up to these days. Remember the SVH book when Jessica ran away?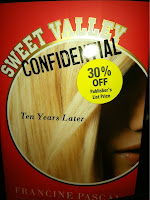 7. It's so hot and humid outside I just can't deal. We've been doing lots and lots of arts and crafts.
8. And we've been doing lots of lounging on Mommy and Daddy's bed.
9. The New Walk4Hearing Video has been released this week---you'll see some familiar faces (especially around the 3:54 mark and on!)
10. My Mom and Dad are coming into town next week---I'm already counting the minutes until they get here!