1. I really hope they love each other forever the way they love each other right now. They are best friends.
2. This past week was so easy-breezy. Lots of playdates with friends, including Miss Eliza. Christian loves Eliza because she plays "boy stuff". They watered plants, picked up bugs (dead cicadas to be exact), and played Dog and Kitty. Oh, and also Star Wars. Don't be fooled little dude, Miss Eliza is one of 3 little girls and can rock a princess dress better than anyone!
3. Lily and I are super-lucky. Ends up Eliza's Mommy is one of my favorite people, and Eliza's little sisters Lucy and Abby are two of Lily's favorite people. Does anything say summer and suburbs better than impromptu underwear runs in the sprinkler?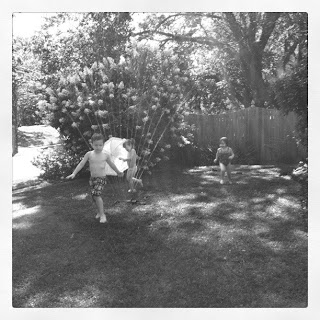 4. We also hit up Brookside Gardens for some serious running, jumping and exploring with Bianca and Eri. We went to the Butterfly Garden and they even got to hold some specimens. I love spending mornings with Eri and our kiddos. Both are so special to our family!
5. Lily can totally pump all by herself on the big-kid swings. Almost better than Christian can.
6. We headed to go see one of our
favorite bands
on Saturday with good friends. We were the old people in the parking lot....well, at least our friends who drove us took out their booster seats in their car. There was a couple a few cars down that had an umbrella stroller sticking out of their trunk.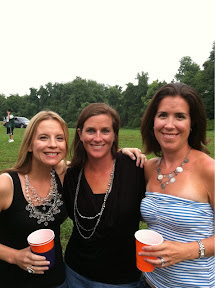 7. How can we hide our age when we packed this "post-show" basket of munchies?!
Thank you Lauren Z. for your HOSPITALITY!
8. Is there anything better than singing and dancing at a live show with 14,000 other people singing and dancing with you? My feet got muddy, my voice was hoarse, but my heart was happy
9. Our favorite babysitter watched the kids for us while we were at the show. Lily is in one of those "Only Mommy Can Tuck Me In" phases. So, we bribed them with the promise of going to get ice cream on Sunday afternoon. A cone of "Captain America" for Christian and a cone of "Pink" for Lily.
10. Christian and his friends are in a fun camp this week hosted by my friend's teenage daughters here at the house. Each day has different themes, and lots of fun crafts and snacks. He is having a blast!
5.